Badminton players serve up the start of the SDSSAA spring season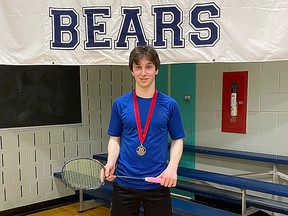 content of the article
It's not too often that athletes like Ecole Secondaire Macdonald-Cartier or Lo-Ellen Park Secondary or even Lockerby Composite feel at home at St. Benedict Catholic Secondary School.
content of the article
The truth is that Matteo Rocca, Brian Fink, Gillian Obradovich and all of their Sudbury Junior Badminton Club teammates are probably exceptions to the norm.
In non-pandemic times, Bears Den also serves as a home, at least a few times a week, to train Troy Brushett (a St Bens teacher) and the members of SJBC.
That may explain the quasi-home court advantage enjoyed by the aforementioned trio and others at last weekend's SDSSAA Badminton Championships when the qualifying roster for the NOSSA playdowns at the same venue was determined. However, as Fink was quick to point out, a dish is a dish a dish.
"I'd say I'm more comfortable in St. Bens, but all badminton courts are essentially the same," said the 17-year-old multisport talent (Fink is also a veteran baseball player), who worked with partner Jacob Lamothe in the boys' doubles game, giving the 7th grade partners the only gold medal performance for the Pantheres that year.
"The only difference between St. Ben's and my school is that the walls at Mac-Jack are a little closer – and sometimes the roof is a little lower (on some schools) so you might have to change things up a bit."
The Fink-Lamothe duo, who have been schoolmates since his ESMC stint, stopped the St Charles College team of Oscar Kunkar and Alex Chartier in the finals, transferring a style of play that incorporates both similarities and differences into their successful doubles badminton game .
content of the article
"I'd say we're pretty similar, except Jacob has a slightly better smash, so I tend to play a little more defense when we can, and Jacob will play a little more up front and cut the bird." said finch.
While numbers at Sudbury Junior Badminton Club were increasing prior to COVID, the truth is these club athletes represent a relatively small portion of the overall field at the Sudbury High School badminton championships in any given year and create something of a spectrum of challenges for the SJBC -Regulars, depending on the enemies they face.
"We're trying to be a little more precise against teams that know what they're doing than just against athletes who don't know how to punish mistakes," Fink said.
Apparently this applies to singles as well as doubles.
"I couldn't believe the athleticism," said Matteo Rocca, Lo-Ellen Older Boys' Individual Champion. "You have guys who may not have high-end badminton skills, but they are very natural athletes. These guys are hard to beat."
"The most important hit against the natural athletes is a hit to their backhand because the backhand is the most difficult shot in badminton," added the 16-year-old Northern Ontario Badminton Association mainstay.
Entering the SDSSAA tournament for the first time ever, Rocca was rewarded for staying the course even as the pandemic created some pretty crazy training schedules along the way.
content of the article
"I trained a lot in North Bay at the KTP Racquet Club," said the 11th grader. "Their practice really helped me to improve during the pandemic and then (as soon as they could) to practice with Troy (Brushett), Mickey (Obradovich) and Jim (Duff) at Baseball Academy – that really helped too."
Although he saw some improvement across the board, the most noticeable improvement came through his movement on the pitch.
"My footwork has definitely improved," suggested Rocca, who defeated College Notre Dame's Christian Munch to win gold in senior singles.
"I'm missing fewer shots: fewer drops, fewer smashes. I can continue rallies without messing up simple shots. I'm just a lot faster."
As for the exercises that accomplished this feat with his feet, Rocca explained that it wasn't particularly complicated conceptually.
"The trainer would lift the bird backwards, then he would do a simple drop, a net shot so I could come up and get it, and then he would slap the other side and I come back to then drop back to the net – it's just such a simple rally exercise."
The remaining senior champions include NOSSA favorite Gillian Obradovich (Lockerby) in girls singles, the Lo Ellen tandem of Amanda Symington and Molly Lafrantaisie in girls doubles, and the mixed doubles team of Farrah Farstad and Blake Rosener of St. Charles Uni.
Five different schools were represented in the junior winners circle, with Champlain (Caleb Lalonde, boys singles), Horizon (Chloe Beaulieu, girls singles), Lo-Ellen (Nolan Kuhlberg/Nathaniel Couture, boys doubles), Riviere des Francais ( Chloee Beaulieu/Ashley Touchette, girls doubles) and Lockerby (Lauren Pineau/James Bertrim, mixed doubles) all return with an extra banner to hang in their respective gyms.
In Class 9, the Alouettes led the way with a winning pair from CND (Theo Lefebvre/Elliot MacDonald, boys doubles; Addison Parise/Rheanna Crepeault, girls doubles), while Will MacKay (boys singles, Lasalle), Bailey Raymond ( Girls Singles, Sacre Coeur) and St. Charles College (Taryn Rollins/Cole Rosener, Mixed Doubles) also topped the podium.
Randy Pascal's That Sudbury Sports Guy column appears regularly in The Sudbury Star.