PHILADELPHIA — Ryan O'Callaghan, who has been out of the National Football League through injury for more than a decade, has abandoned his original plan for his post-retirement years: to end his life.
Instead, the former tackle for the New England Patriots and Kansas City Chiefs finally tackled the secret he'd been keeping from almost everyone. Five years ago he revealed that he was gay and had become addicted to painkillers.
"Not to oversimplify it, but I think you have to first find the reason you're abusing the drugs that I've been abusing because I hated myself and was paranoid about being gay," O'Callaghan told the Los Angeles blades. "I fixed that, which then made it easier to quit. I was on painkillers so there is a chemical dependency and you must be responsible for stopping it. But not relapsing is what prevents fixing the problem."
The 38-year-old Redding, California native shared his story Thursday in the keynote portion of Drexel University's conference, A Catalyst for the Cause: Fostering Greater Equity in Sport. In addition to looking back on his own coming out, O'Callaghan is now concerned about LGBTQ players in the NFL. Recently-sacked defenseman Carl Nassib and free agent RK Russell aren't the only ones, he said.
"Two more players are coming out soon, probably this offseason," O'Callaghan revealed in his conversation with Drexel senior Zeke Goldsmith, a fellow California native fresh from his own interview with Oakland's own D.Gil. O'Callaghan said he knows of other retired football players who are living their truth or taking steps toward that goal line.
"There are a lot of guys who have come out who haven't come out publicly, so they're living their life as an openly gay man. They just haven't written a book or anything," said O'Callaghan, of his own memoir My Life on the Line: How the NFL Almost Killed Me and Ended Up Saving My Lifewas released in 2019. All profits from his book go directly to the charity he founded, The Ryan O'Callaghan Foundation, which is dedicated to creating more opportunities for LGBTQ+ athletes and fostering a sense of community among players.
"More progress has been made than I think people really know," he said. "I talk to a lot of these people and I tell them, 'You don't have to make it public, just live your life.' And a lot of people have done that."
When Nassib revealed he was gay in a 2021 Instagram post, O'Callaghan noted that it was a very different experience than when Michael Sam came out before the NFL draft in 2014.
"They have taken many honest steps to do better. You know, at first, their support for The Trevor Project and GLAAD felt a bit lazy. You know, they just wrote one check and that was it," he said. But O'Callaghan said even with last February's Night of Pride and last year's NFL is Queer commercial, the league is still not doing enough.
"I still think they need to do more to actually reach the players in the dressing room because a high profile, unnamed person coming out would have more impact than I think a lot of those things combined," he told the more than 60 students gathered, so many that the university's main boardroom was empty of seats and there was standing room only to hear O'Callaghan.
His recommendation to officials: Invite gay NFL players back into the locker room to share their experiences, something he said hasn't happened since Esera Tuaolo's visit in his rookie year.
During the Q&A, O'Callaghan was asked if the NFL should do more to counter anti-LGBTQ laws like anti-trans inclusion laws and "Don't Say Gay" parental rights laws.
"It would be great for the Miami Dolphins to take a stand like Disney did, but I honestly just don't see it," he said. "The influence of the NFL could change some things, but I also think a lot of these bills are just trying to fix a problem that doesn't exist at all."
After the event, O'Callaghan elaborated on this in a conversation with the Blade. "For a long time, the NCAA has been trying to do the right thing. They set up rules, people abided by the rules and they can participate. It is what it is," he said,
Also speaking to the students was Kate Scott, a native of Clovis, California, who, like O'Callaghan, is 38 and a graduate of the University of California, Berkeley.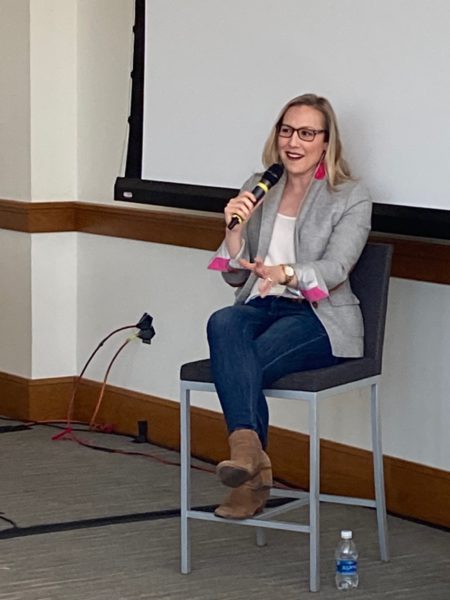 Scott was hired last year to be the play-by-play voice for the Philadelphia 76ers. She reminded the students that in her interview, she listed all the reasons why the team shouldn't hire her.
"I'm not just a woman," Scott said, "I'm from across the country and I'm gay. How will this work? They had the most wonderful reaction and they said, 'Kate, if you get this job it's because you're the best broadcaster, period. We try to honor that. We don't care what that person looks like, whether they're male or female. We don't care who you're married to. We don't care about your religion. We don't care. We want the best channel that will hopefully guide us through the next 20 years of 76ers basketball.'"
Scott told the Blade her advice to students is to "find your branch."
"There are no ladders in this industry, as I'm sure you know. There's just what I like to call an oak tree with a bunch of branches that you just have to get up and see if it's a good start. If not, come back to the trunk and go out with someone else," Scott said. "The more people I speak representing all the different communities that work in sports media or just media in general than our friends who work in news, weather and all the different aspects of sports, it gets really small. work really hard Overexerting like, Ryan said, don't go out there looking for credit. try to be the best Back to sports, try to be the best team player."