content of the article
The Eagles have praised.
content of the article
The Strathcona Christian Academy Eagles athletics program recently held their year-end awards, with the focus on just being glad they were able to do so at all after losing an entire year in 2020-2021 to the COVID curse.
"The biggest success story was that we even had sports and were able to do our tournaments and had a pretty normal year again," said SCA athletic director Jeff Hollinshead.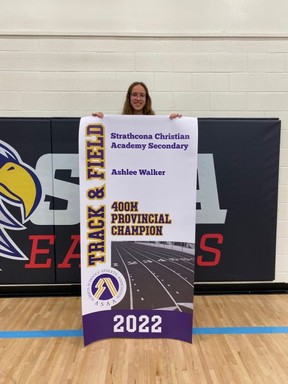 While previous years have seen surprising success in court sports like volleyball and basketball for a school of its size, there have been no provincial performances this season. Instead, the focus of pride shifted to some individual endeavors.
"Since 1980 we've had just one athlete, Jace Mix, to win a provincial banner in an individual sport for our school, but we added another this year," Hollinshead said. "A 10th grade girl, Ashlee Walker, won a gold medal in the junior women's 400-meter sprint at the provincial track and field championships. She's just a very humble girl who's easy to train. She totally surprised me this year. She has tremendous drive and passion. She was pretty excited to see her name on that banner. Not only was she first, she was also the youngest girl in the race.
"We had another strong performance at the track from Kiera Greidanus, who won the 1500m and 3000m junior races in zones and cities and finished sixth and seventh in those provincial events.
"We also had swimmer Teagan Vander Leek, who set new EIPS records in both the 50m freestyle with a time of 26.51 and the 100m individual medley with a time of 1:04.93. There was no one anywhere near her. She is in the national team in her age group. She's fighting to make it to the Olympics one day, she's that good. We created a new award this year, Senior High Top Performance of the Year, to recognize achievements like yours. It was imperative that she be recognized."
content of the article
Moving on to the usual accolades, the Male Athlete of the Year award went to Mackenzie Peters, a volleyball and badminton MVP winner who also played basketball and flag football.
"He's stable, tenacious and versatile," said Hollinshead. "He's a really good leader. He doubled with his younger brother in badminton which was a golden opportunity and they didn't lose a single league game all season. He's an all-around great athlete who can learn and excel in any sport. He's friendly and a real leader who really encourages his teammates."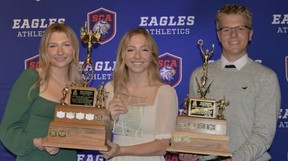 The Sportswoman of the Year award was split between twin sisters Kate and Emily Verhagen, who are probably pretty used to having to share things at this point. They both played soccer, basketball, and volleyball, with Emily being the MVP in the latter.
"Our older girls' volleyball team literally lost to only one school all year, St. Peter the Apostle, but they had a smaller provincial team this year and we didn't have the wild card to play for," Hollinshead said. "Both could have played in the provinces in a normal year. And we lost three of those games in the fifth set, 15-13. And SPA won provincial championships, so we definitely had a chance. Both girls were always smiling and enjoying what they were doing and showing so much heart. Emily, a setter, really lifted the team when she was on the floor. Kate was our shooting guard in basketball. They were both strong for all three of their teams and it was hard to choose between them. We rarely pick two athletes, but I couldn't pick both. They are just wonderful children. It was a real joy to see them both thrive in athletics this year. They were both so happy for each other, it was wonderful to see."
content of the article
The Eagles had many awards up for grabs this year.
Trophies won for SCA's junior and senior boys' and girls' basketball teams were MVPs Hannah Blais, Lizzy Martens, Keaton Peters and Nate Maxwell, with other honors going to Yeddis Kayumba, Nolah Box, Kate Verhagen, Luci Marshman, Nana Atta -Mensah, Ben Boldt, Barron Fung, and Peters.
Volleyball MVP honors went to Ella Moerman, Emily Verhagen, Lukus Tchir and Peters, with other trophies going to Baylee Thornton, Penelope Wiebe, Kate Richards, Abi Sturge, Dylan James, Ben Boldt, Caleb Maddigan and Dylan Sawchuk.
The top performer in cross country was Matthew Carr, while Austin Gawron took credit for golf.
Badminton award winners included Mackenzie Peters, Keaton Peters, Anna Glasman, Katie Rietveld and Liam Patrick.
Indoor mixed soccer award winners were MVPs Carson Irwin and Sydney Bylsma; as well as Zach Zelman, Chelsea Komant, Fola Awakan and Ella Moerman.
Kylee Delveaux was senior girls' soccer MVP, while Kate Verhagen and Ella Moerman were also named to the podium.
Rounding out the honorees were Dean Boldt, Austin Hennig and Landon Maddigan for Flag Football.
sjones@postmedia.com
twitter.com/Realshanejones