Enjoy the bank holiday weekend safely and responsibly.
Fire on the Water at Oak Mountain State Park
The City of Pelham will celebrate the nation's birthday Sunday, July 3, from 7 a.m. to 9 p.m. at Oak Mountain State Park. Grab a good spot on the beach and enjoy the day at the park while waiting for the fireworks show to start. Festivities include food vendors, swimming and music. The fireworks start at 9:00 p.m. Gates open at 7am and close at 7pm. The event is rain or shine. For more information, call 205-620-2520.
Thunder on the Mountain at Vulcan Park and Museum
The state's biggest celebration on July 4th will light up the sky on Red Mountain with a series of fireworks in honor of the nation's birthday and World Games celebrations. Birmingham viewers can watch WBRC Fox6 for the live stream. Viewers can also listen to the soundtrack on iHeart Media radio stations 102.5 The Bull, 103.1 The Vulcan, 103.7 The Q, 104.1 The Beat, Birmingham's ALT 991, B106.5, 105 Hallelujah FM, Magic 96.5, News Radio 960 WERC, News Radio 105.5 WERC and La Jefa 98.3. At around 9 p.m., the first of more than 2,500 shells and effects will light up Vulcan and the sky above. A score featuring the likes of James Brown, Katy Perry and Neil Diamond will be expertly coordinated and choreographed to accompany the colorful fireworks display, making it the largest show Vulcan has hosted to date. There will also be a selection of songs paying tribute to the city and a celebration of the 2022 World Games in Birmingham.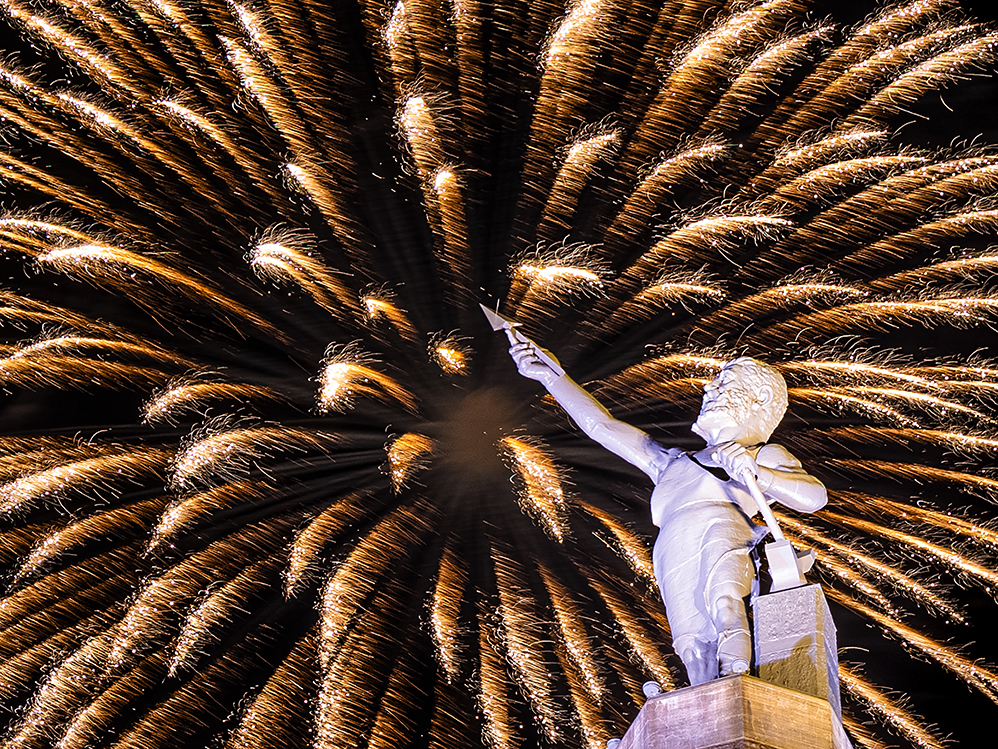 Thunder on the Mountain fireworks start at 9 p.m. (post)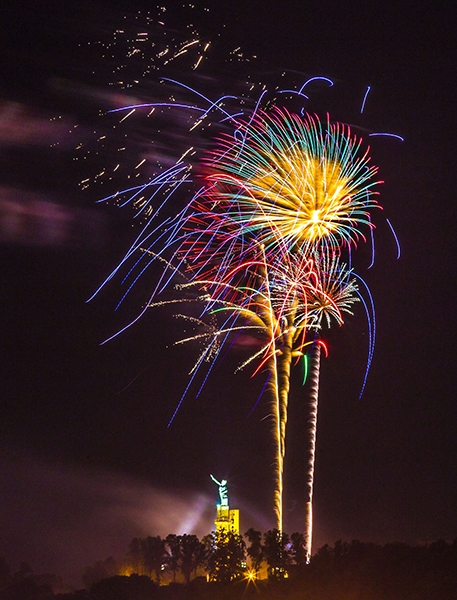 Thunder on the Mountain fireworks start at 9 p.m. (post)
Spirit of America Festival at Point Mallard
The Spirit of America will celebrate America's heritage and birthday on July 4th. It is one of the largest free Independence Day celebrations in the state. The event features family games, summer field competitions, live entertainment on stage, performances, sports tournaments, food and craft vendors, fireworks, talent shows, the coronation of Miss Point Mallard and the Audie Murphy Patriotism Award ceremony. The fun starts at 12pm and lasts until 9pm. For more information call 256-350-2028.
Fireworks of the city of Alabaster
Celebrate the 4th of July in Alabaster on Saturday, July 2nd at 6:00pm with bouncy castles, food trucks and games like cornhole, badminton, bocce, lawn bowls and crossnet. The events start at 6:00 p.m. and the fireworks at 9:00 p.m. Traffic is allowed in and out of Thompson Road to Thompson High School via Warrior Parkway until 8:00 p.m. and closes from 8:00 p.m. until 30 minutes after the last fireworks. Anyone arriving at 8pm or later should enter from the Kent Dairy Road.
Independence Day Street Festival in Orange Beach
There will be family-friendly activities, a bubble zone, bouncy castles, a surfing simulator, face painting ($10), camel rides ($5), a rock wall, a battle zone, and DJ Silky spinning dance tunes. Lady Liberty and Uncle Sam will make an appearance. The night ends with palm trees highlighted in patriotic colors and a grand fireworks display. The street party takes place on July 4th from 5pm to 9pm at The Wharf on Main Street and Marlin Circle. Children's activities are from 5pm to 9pm, fireworks at 8:45pm and the Spectra Laser Light Experience at 9pm
July 4th at The Amp
Secure your seat on the lawns of the Lake Martin Amphitheater for a concert and one of the largest fireworks shows in the Southeast. Andrew Jannakos will take the stage at 8pm and after the fireworks at 9:30pm. Jannakos is known for appearing in the 16th season of NBC's The Voice. Bank Walkers will open the event at around 6:30pm. Tickets cost $10.
Smith Lake Park Fireworks and Music Festival
Smith Lake Park celebrates its 50th anniversary on Monday, July 4th. Participants will enjoy arts and crafts, food, music, fun and fireworks. The spectacular fireworks display begins at 9 p.m. Admission is free. Follow the full schedule here or call 256-739-2916.
July 4th at the American Village
All day long in the American Village, July 4th means red, white and blue fun, music, games and more than 40 patriotic activities. Celebrations include encounters with patriots of the past such as George and Martha Washington, John and Abigail Adams, Alexander and Eliza Hamilton, Ben Franklin, Thomas Jefferson, Samuel Adams, the Battle of Concord Bridge and fireworks in the last glow of twilight. Hands-on activities for kids include a cornhole toss, hula hoops, Jenga, sidewalk chalk art, and a petting area for farm animals. An American artisan area offers handmade products for sale. Food trucks will be on site. Gates open at 11:00 am with program offered from 11:30 am until the evening fireworks. Admission is $5. Veterans, active military, and children 4 years and under are admitted free.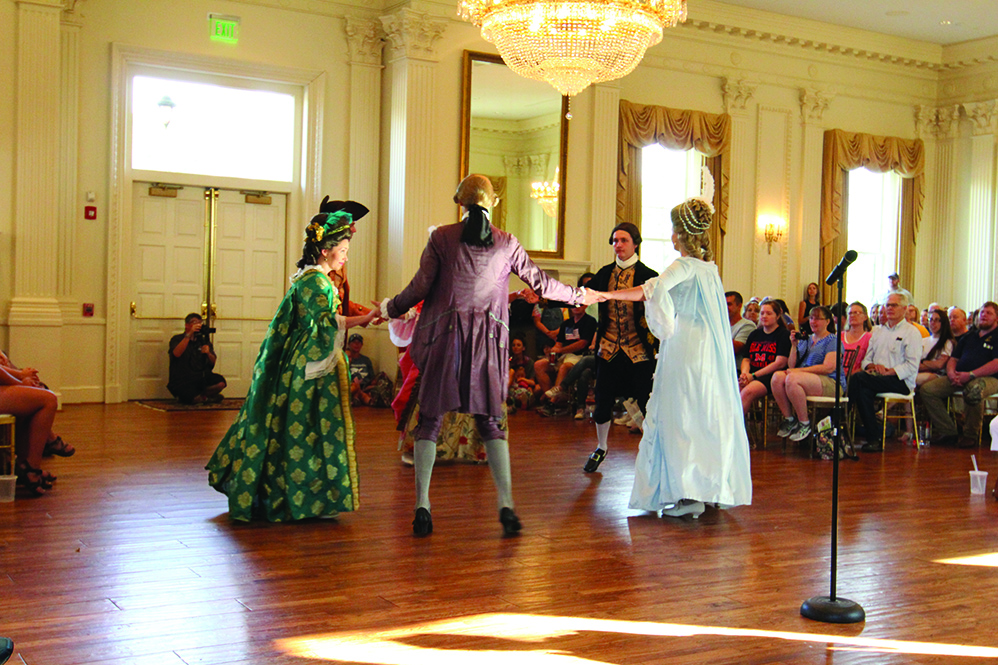 American Village offers family-friendly vacation entertainment for everyone. (Contribution)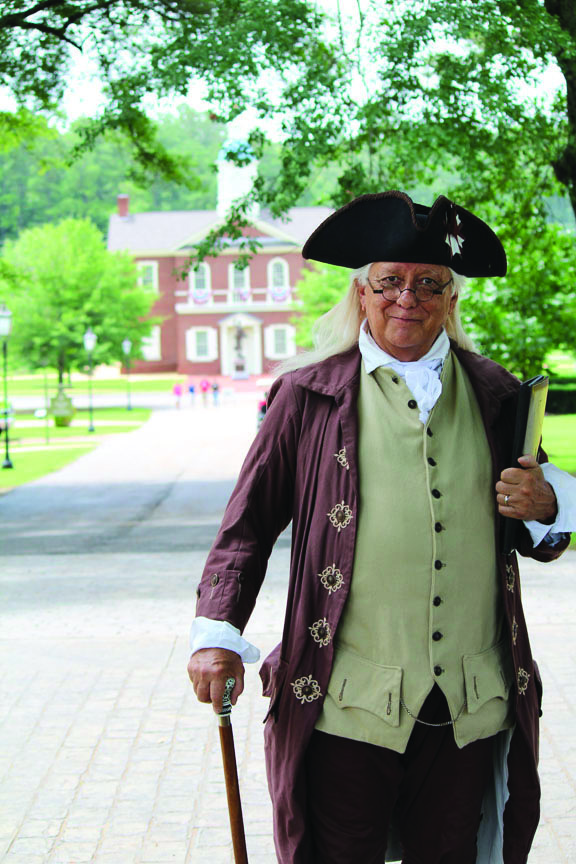 American Village offers family-friendly vacation entertainment for everyone. (Contribution)
Celebrate the 4th of July weekend with OWA