SULLY — The Colfax-Mingo baseball team trailed 3-1, 5-2, 6-4 in Saturday's Class 1A quarterfinal game at District 10 against rival North Mahaska.
The Tigerhawks stayed close thanks to Cole Bracewell on the mound and a frontman who scored five of the team's six hits.
Colfax-Mingo eventually came all the way back to level the score and force extra innings, but a couple of crucial errors in the final frame were too many to overcome during a 7-6 loss at Lynnville-Sully High School.
"Reaching 6:6 felt like a win for us. That was great," said Colfax-Mingo baseball coach Drew Otto. "It would have been great to finish it but I'm super proud of the kids."
The Tigerhawks and Warhawks split their two regular season games. And CM played the final matchup without any of their top four players.
Joe Earles was absent due to an injury he sustained during batting practice earlier in the day.
"Not having him is huge. He's one of our frontrunners," said Otto. "To not have him, we have no idea what happens. He's hitting home runs, doubles, triples. We'll never know, but we're certainly looking forward to next year with him."
Both teams scored a run in the first inning from the other team's aces.
At the head of first, CM took an early lead after Colton Edwards broke away, moved into second with a ground out, finished third on a wild pitch and then scored with a North Mahaska error.
Bracewell started on the mound for the Tigerhawks and threw himself into the eighth inning before running out of places.
He allowed a lead-off infield single at the end of the first and walked with two batters. The run scored on a sacrificial fly to right field.
Neither team scored again until North Mahaska (15-7) went over two in the bottom third of the second.
The Warhawks hit both runs with two outs while Dodge Duke came through with a two-run double.
"He executed the pitches perfectly tonight," Otto said of Cole Bracewell. "I think he only missed his seat a few times."
Colfax-Mingo (4-15) got a little closer in the fourth when Cael reached Bracewell from a miss and singled Nathan Sloan. Cael Bracewell made it 3-2 when he hit a passer.
North Mahaska added two runs in fifth, one in sixth and one in eighth to win it.
Before that, the Tigerhawks scored twice in sixth and seventh place.
In the sixth, Cael Bracewell caught another miss with an out and then stole second base.
Sloan's RBI single cut the deficit to 5-3 and then Colton Lind left. Will Zook, an eighth-grader who's hit in his previous two at-bats, came through with an RBI single that made it 5-4.
"The beatings came tonight. The punches, the hits, I couldn't be prouder," said Otto. "Even with runners in the goal-scoring position, we did much better. We struggle with that all year round. I wish we had that extra week because it feels like we're making our move."
After the Warhawks narrowed the lead back to two runs, CM connected it with two in the seventh.
Edwards hit a one-out single and then finished second on a bar. After a ground out, Cael Bracewell tied an RBI double that cut the deficit to 6-5.
Bracewell then stole third place and eventually scored on a wild pitch, tying the game at 6-all.
"He's been doing that all season. He's one of those guys you want up there," Otto said of Cael Bracewell. "We have four of our top hitters in our lineup coming back.
"Sloan and Edwards have come so far this year. It was also great to see them grow and develop."
Unfortunately for CM, it failed to score in the eighth. North Mahaska hit back-to-back errors with one out, and then Drake Hall won the game with an RBI single with two outs on third baseline.
Bracewell was moved to eighth place after two batters because he pitched a season-high 110. He allowed five earned runs on six hits with eight strikeouts, five walks and a hit batter in 7 1/3 innings.
Cael Bracewell was out there for the game-winning run. He got one out with a pop fly first, but Hall won it on the next at-bat.
"Cole did everything right and gave us everything with 110 pitches. He served a damn good game," said Otto. "I couldn't ask for anything more from him."
The Tigerhawks had four errors in the game and all got into the last three innings. They also made some important defensive plays.
Zook threw out a base runner trying to steal second place for the finals in fifth, then erased another Warhawk on bases when he threw it to third after a strikeout for a double play in sixth.
Zook was 1-for-4 at the plate with three strikeouts but had an important RBI single with two strikes in the sixth.
"He's in 8th grade and he's throwing guys at the bases and getting punches when the pressure is up," Otto said. "How big is that and how exciting is his future over the next four years? I am looking forward."
CM loses just three seniors, one of which is perennial starter Cole Bracewell. But the Tigerhawks are welcoming back a wealth of talent, including Cael Bracewell, Edwards and Sloan, who combined for five hits and five runs against North Mahaska.
"We are mainly a second-year team. It's exciting to have most of these kids back and to have the experience they've had this year," Otto said. "We also know what we need to do from March to May to prepare for the season."
Cael Bracewell led the offense with one hit, two runs, one RBI and two steals. Sloan had two hits, a run, an RBI, a walk and a steal, and Edwards had two hits and two runs from the starting position.
Lind and Trey Hockemeier also went for a walk once and Zook had the RBI single.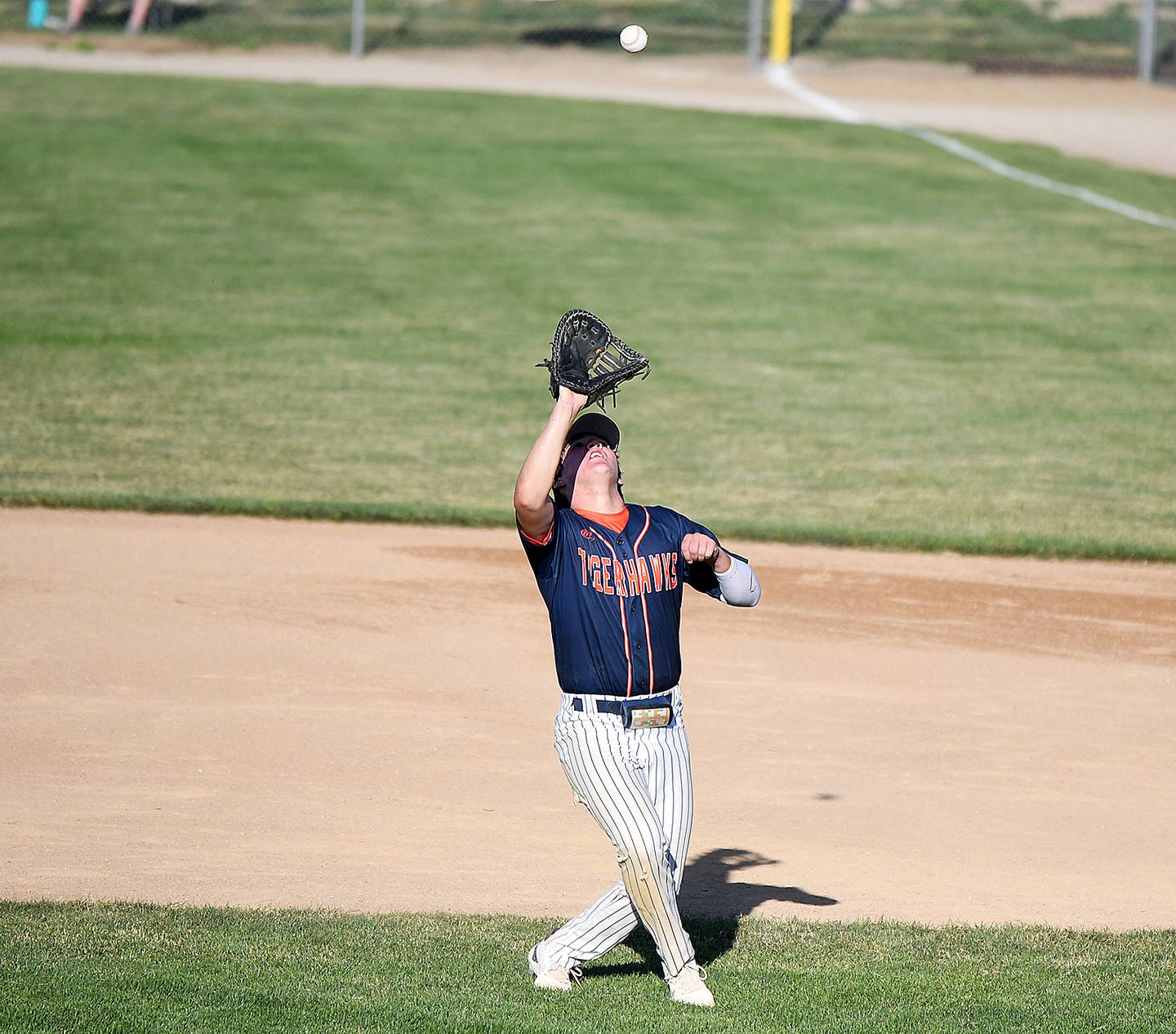 Both teams had six goals and there were five errors between them.
The end of both teams' lineups struggled the most. C-M's bottom five hitters were 1-for-17 with a walk and 13 strikeouts. North Mahaska's bottom four batters were 1-for-16 with two runs and seven strikeouts.
The Warhawks advance to the District Semifinals against Lynnville-Sully on Tuesday at 7 p.m. in Sully on a four-game winning streak.
North Mahaska's Nash Smith batted 12 and allowed two earned runs in 6 1/3 innings on the mound. Jaydyn Steil took the win, throwing the last 1 2/3 innings and giving up two earned runs with two hits.
Duke had two hits and five RBIs to lead the Warhawks, and Nate Sampson finished with two hits and two runs.
BGM 12, Colfax-Mingo 4
BROOKLYN — Colfax-Mingo just tried to reach the finish line.
Tigerhawk's coaching staff minimized the number of pitches to keep their best pitchers available for the postseason, and the restrictions hurt Colfax-Mingo in the final two games of the regular season.
BGM defeated the Tigerhawks 12-4 on June 29 after opening a tight game with a fourth and a four-run fourth during a contest in the South Iowa Cedar League.
Both teams scored two runs in the first inning and BGM led 3-2 after three. Colfax-Mingo scored two more in fifth place, but it wasn't enough.
Sloan and Konner Dalton had two hits each and the other three hits came from Cole Bracewell, Donavan Baucom and Earles. The Bears pitching staff left with 10 Tigerhawks.
Sloan doubled and had two RBIs, Dalton walked once and had an RBI, and Earles walked twice and hit a run.
Baucom had an RBI, Cole Bracewell doubled, and Cael Bracewell added a walk, a hit by pitch, and two runs, and Edwards, Lind, and Zook all walked twice.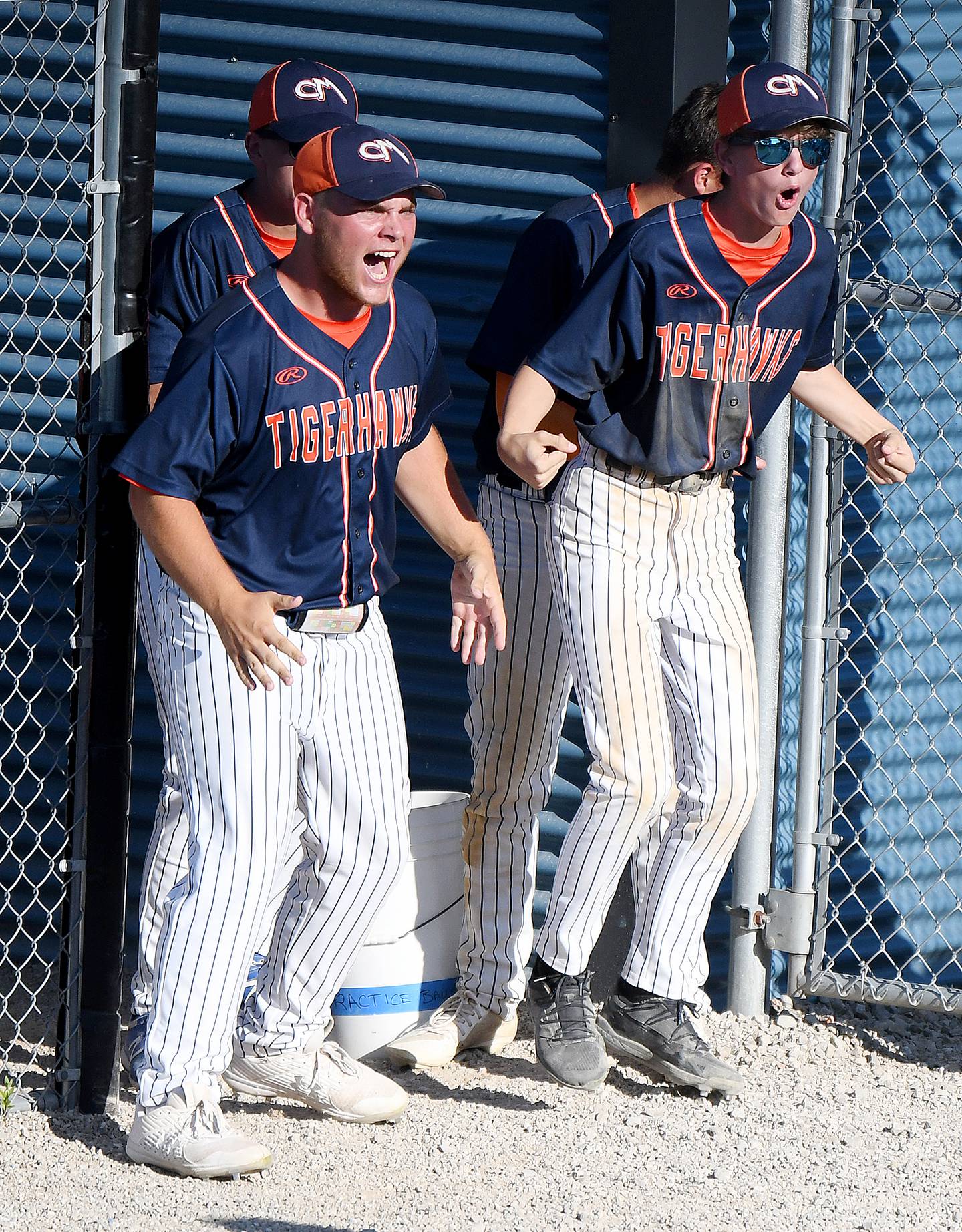 Lind also stole a base and Edwards hit a run.
Three Tigerhawks (4-15 overall, 3-12 in SICL) fielded the six innings. Zook walked four and took the loss after allowing 11 runs – five earned – on 11 hits. He knocked out one and walked two in 89 pitches.
Cole Bracewell and Kaden Dalton each pitched an inning and stayed under 25 pitches.
Cole Bracewell allowed a deserved run and two hits with a strikeout and a walk and Kaden Dalton hit three.
The Tigerhawks were plagued by four errors.
BGM (8-13, 7-8) registered 16 hits and stole eight bases. Seven players had two hits, led by Dominic Coleman's two hits and three runs.
Coleman also got the win on the mound after hitting four in 4 2/3 innings.
Colo-NESCO 10, Colfax-Mingo 3
COLFAX — A seven-run inning helped Colo-NESCO break away from Colfax-Mingo during a nonconference game on June 28.
The Tigerhawks and Royals were tied after three games by 2 each, but Colo-NESCO scored seven goals in the fourth game and won 10-3 away.
CM led 1-0 after one inning, and the Tigerhawks leveled 2-0 with another run in the third. The seven-run fourth run for the Royals was too much to overcome, but the Tigerhawks overshot their last run at the end of the seventh.
Cael Bracewell had three hits to lead the offense while Earles had two hits, doubled and hit a run.
Cole Bracewell, Edwards, Sloan and Hockemeier all had a hit.
Cole Bracewell and Sloan both doubled, Cole Bracewell and Edwards each scored a run and Shane Aikin, Konner Dalton and Lind all walked once.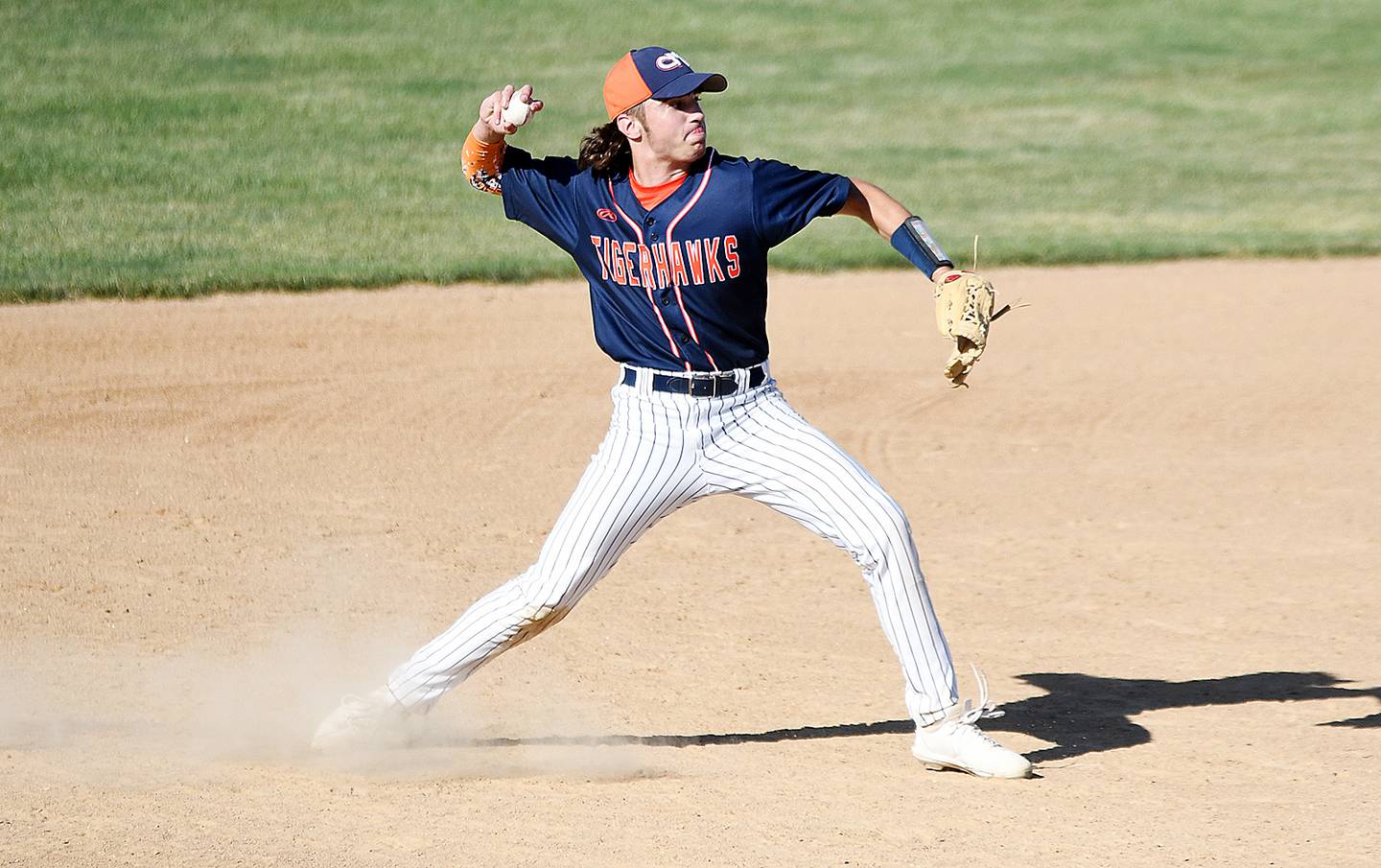 Five Tigerhawks pitched and none of them threw more than 40 pitches.
Cole Bracewell pitched one inning and allowed one hit and had a strikeout, Cael Bracewell threw 1 2/3 innings and gave up two earned runs on two hits and two walks and he knocked out one and Zook pitched 1 2/3 innings and allowed none Runs and two hits and two canceled.
Konner Dalton allowed a deserved run and a hit while striking one and walking four in two innings.
Edwards took the loss after giving up seven runs – five earned – on five hits with two walks in 2/3 of an innings.
Kenny Cutler led Colo-NESCO (13-11) with three hits, a walk, a hit by pitch and a run, and Ben Rouse had three hits and two runs.